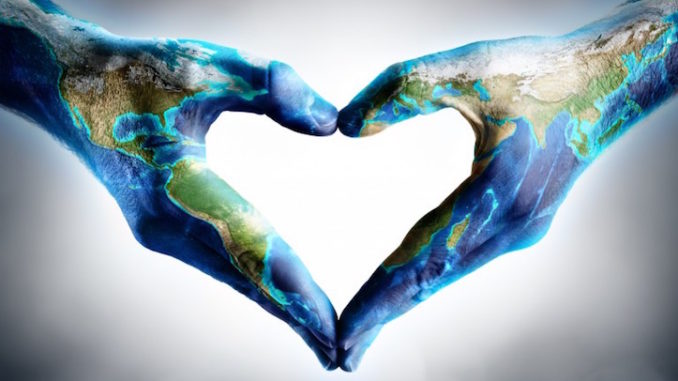 There was, to my great surprise, quite the conversation going on around this last article. It seems to have hit a common nerve amongst those of us who are trying to keep a finger on what is currently going on in the bigger picture: in the solar system and beyond. Maia Dalma and I have had this conversation in many ways and through many lenses over the last year. Always Maia's perspective is unique, a mixture of many things, intriguing and inspiring.
One of the best posts was '9 Days', on its third or fourth go-round in social media. This is well worth the re-read if only because it fits snugly into the topic of this current post. If you have ever wondered what the energetic 'event' might feel like from the inside out, and why it will effectively wake us up and brings us together, here it is.
There were many wonderous replies underneath the face book posting for IMO and they closely fit the hearts and minds of us all. I urge you to go see. These people are awake and aware! Maia, continued in great detail on a separate post - about peace and insanity. In one way I think if you were to look at us from a different value system, IE: one that doesn't come from any of the matrix controlled minds, this is what you would see.
We have answered this question before, Alison. It is not as complex as our egos would have us believe. It's actually pretty simple. Conflict is the answer to the question. 'Why can we not know peace?' is the question. To us, there are no degrees of truth in any of your specie's illusions. They are all equally mistaken. Your species speaks of 'law' as though your species were the sole author of it. Creation is not mistaken in Its truth. All of you are about to learn this in an entirely irrefutable way. The 'laws' your world and humanity have created, and serve like boot-licking slaves, are nothing but the laws of chaos. Look around the world and tell us this is not so. Though you each may occasionally bring them to the 'light' of your understandings, these 'laws' cannot be understood, for they are all equally insane.

Each of you believe 'your' truth is the only one. And in your individual 'truths' you believe you are separate and alone, set off from all the others who share your world, and others who share this universe. Your hierarchy of illusions in this world tells each of you that some of your illusions are more valuable than others and therefore must be true. But in reality, they are all equally false.

Each one of you establishes this order of 'truth' for himself, and each of you makes it 'true' by your judgement or attack on what another values. This is how it is done. Yet your collective values govern nothing. And this is clearly evidenced by the madhouse your world has become. Because your collective values differ, an attack on another can be justified because what is different is 'unlike,' and what is 'unlike' must be the enemy of what is 'same.' And each of you 'hates' what is not 'same.' And what you hate, you fear. And what you fear, you attempt to destroy. It sounds humiliatingly simple, doesn't it? Do you see the link, Alison? It's pretty obvious to us. We know this. Every culture in the universe must one day acknowledge the laws of chaos in its evolution, or perish by them, for it is in those 'laws' that 'what calls for forgiveness, instead deserves attack and death.' This is humanity as it is now ruled by these 'laws.' Now. Today. Here. Planet Earth. Terra.

To answer your question, this is humanity's present choice in a nutshell. Is this really what you wanted? To know? What you must do? The answer to this question is equally simple, as well. Learn and change, and thus evolve. Or. Continue on this road, embracing old ideas. Both choices have consequences. The cause and effect of learning and changing is represented in one timeline filled with peace and hope. The opposite... Failing this... Is represented in another. One offers untold promise. The other offers untold guarantees. If humanity decides for the status quo, your species will not see the light of a new dawn of man. Instead it will witness an unimaginable darkness and the tragic end of itself. You would not be the first civilization in your planet's history to do so, nor would you be the first species on this planet in this Universe to make that mistake. Know this, gently, Alison, but know this. The arrogance on which 'these' laws of chaos stand in this world, could not be more apparent than in what emerges for 'sanity' here on this planet. Peace is not a state of being here. It is a state of wishful mind. Is this humanity's sole defining principle that describes the fealty your species has to Its Creator? Apparently. Our shared Creator of our Reality is defined and described a little differently. And it is not what humanity says He must be, or what humanity says He must think or what He must believe, or how He must respond, if He believes as humanity believes. Your collective Faiths are your species' truth. Actions do in fact speak louder than words. A hollow, empty faith is not a faith at all. It is hubris. You may call it whatever you choose. The point is moot. And the audience is mostly deaf.
In your specie's mistaken arrogance, it is not seen as even necessary that 'God' or Creation be asked about the truth of what has been established for humanity's collective disparate beliefs in It. The Cosmos is at peace. It's Laws are defined by Creation. Your 'laws' are defined by what is 'legal,' not what is 'right.' This leads humanity directly to the preposterous belief that seems to make chaos on this planet appear to be normal, and makes it seem forever, and eternal. You each think you are God. In your individual world's, to some degree, you are. But in the whole of Creation, you are still a part of and must obey the Laws of One. We know our Creator, Alison. We also know by 'faith' that we are created beings, ruled by a Sovereign Power that is in us, but not of us. Apparently, some of you think that Creation has made a mistake. And according to most of mankind, if man cannot be mistaken in his beliefs, God must accept what humanity thinks He and Creation actually are, and suspecting you might be wrong, fearing you might be wrong, you thus logically and predictably hate both for it. Good luck with a faith that has no work. Look around you. What you believe as a separated, warring species consumed by greed, you have in fact built yourselves by hand. And what you once thought you 'believed' as a species is demonstrated in the dying world you are now beginning to reject. No, Alison. It does not end well. For any of us.

None of you can see now how the fear of Creation is reinforced by the weakness of your faith. Not a one of you. Or how humanity's entire thought system is based on fear. This is blindness, Alison. You are not angry. You are afraid. And what is fear but the absence of love? Now has it become impossible to turn to God for any help in all of your planet's misery. Creation has become a joke with a human punchline. Instead, you turn to each other, searching for 'sameness.' And you find it in your fear. Your cause for the world has always been and still becomes retribution and nothing more. What will you teach your children in your wisdom? For now, Creation has indeed become humanity's "enemy." And 'to destroy' by fear is all you really know how to do. What happened to 'Built by Love?' And so... bottom line... each of you believe that God has caused all your pain, or has permitted it, and so now to Him by any of you, any kind of appeal for mercy becomes pointlessly and impossibly useless. We have seen this thought system before. And you may find it for yourselves in all the various sundry litter of the many ancient abandoned monuments built to human greed and power in the past. Connect the dots. You are a smart woman.

Any salvation that once lay in faith, now lies majestically within each of you. You whose every aspect seems to be now at war with Creation, as well as with each other. And now that all of you are so thoroughly and insanely convinced and justified in your plans for self-destruction, retribution, or vengeance, that God Himself could not change the course you have chosen. Pack lightly for your journeys in that decision. The clothes on your backs will suffice.

Greed and corruption, hatred and fear. These are human mantras. And as you chant them moment by moment, so is global conflict on an epic scale made inevitable, and destruction become inescapable because greed and corruption have become the defacto saviors of your world, and so now does humanity drift beyond the help of a Power Greater than Itself. And now does healing in this world yet remain impossible, because the few redeeming qualities of humankind have themselves become a fraud, and your 'truth' has become your greatest enemy. There will be no release and no escape from the future we design in apathy for any of us. Where will we run? Your bright collective future is a delicious illusion when framed in the context of constant conflict and war. And your future, like ours, thus becomes a myth, and vengeance, not forgiveness, becomes the 'will and living legacy' of man.

From where all this begins, Alison, there appears to be no sight of help that can succeed in saving this planet from the chaos man has embraced. Only destruction can be the outcome. And God Himself seems to be siding with it, to finally overcome the bitter, lonely illusion His Child, YOU, has come to believe he is in this world. Do not think for a moment that human ego will enable any of you to find escape from what it wants for all of you. And do not think in this moment that God or Creation cares one whit about what your collective egos value or what any of your individual egos cherish. The Universe does not work this way. Our collective desires becomes its central idea. So be careful with this. Having is never the same as wanting. To answer this aspect of your question, Is there help? Yes. But Love cannot enter where it is not wanted. That 'help' will not arrive unless it is desired. This, too, is 'how' the Universe works.

You will each draw to yourselves the truth of your individual existence. And vengeance, hubris, deception, corruption, and vanity appears now to be the road we will all collectively take to find it. There is not a hole beneath any mountain deep enough to hide from the consequence of self-betrayal.

Thus will each of us, and we include ourselves, the so-called 'guilty ones,' one day protest our "innocence." We will each say that 'Were we not forced into this foul attack by the unscrupulous behavior of our enemy, we would have responded only with kindness.' Look in a mirror, Alison. Tell me this is not true... In a savage world the kind cannot survive, so they must take or else be taken from. It is not our world we describe. It is yours.

Here is a partial answer to the vague unanswered question you asked, Alison, but here it is not yet quite fully "explained." What is this precious thing, this priceless pearl, this hidden secret treasure, to be wrested in righteous wrath from this most treacherous and cunning enemy? And who is the 'enemy?' Peace? Truth? And where may you find him, or it? In Islam? Christianity? In Politics? In racism? In power? Status? Wealth? One's ego? Treachery in any thought or deed by our individual egos demand our death that what we think is Spirit may somehow endure and live. And yet we ALWAYS argue that we attacked only in self-defense. But what is it that any of us want that needs death? Peace? This world is insane. Can we ever be so sure that any of our murderous attacks on anyone or anything is justified unless we know what it is for? Peace. Our attacks are for continued peace. Ok...

This is where the laws of chaos come to humanity's "rescue." It always has. It always does. It holds that there is a substitute for love. Vengeance and retribution are the magic that will cure all of your pain; the missing factor in your madness that makes it "sane." This is the reason why you must attack. And you do it casually, without thinking, and without any idea to the consequences you invite in the decision. Here is what makes your world's vengeance justified.

Behold, unveiled, your species' secret gift, torn from your brother's body, wrenched from him by you with hands that feel but act alone on thought. We take from those we are commanded to love, not by willful intent, but by intentional indifference. Our brain does not think and our hearts do not feel. And as we do or do not do, we deceive ourselves about what we have hidden in our hearts in malice or in hatred for the one to whom the gift of Love originally belonged. The one we judge is the same one who would deprive us of the secret ingredient that would give meaning to our lives. The substitute for that love, born of our enmity to our brother, any brother, must be...it must be our salvation. For we have paid so much in blood and soul for it. It need be true. By God or Allah it need be true. For it has no substitute, and there is only one. And so all our actions must have but the singleness of purpose of seizing it and making it our own.

But this is not peace, Alison. And we cannot find peace by searching for it in war. Not on a global scale or any intimately personal level. This is our mad, insane world: the one each of us believes is true, and we defy anyone to tell us this is not so; madness is sanity, illusions are true, attack is kindness, hatred is love, and murder is benediction. These are the hidden goals the laws of chaos continue to serve and humanity continues to teach. These are the means by which the laws of Creation appear to be reversed in a world and life you have labeled 'farce.' Here on this planet, unique in all Creation, do the laws of mankind appear to hold Love captive, and so let evil wander sovereign in a paradise turned to hell.

Know that your time in this illusion is almost done. Make your peace in it. Turn to your enemy and make your peace with him. Or believe whatever you choose in it. Pray to whatever God is holy to you in it. But however each of you individually understands it, be cautious. Understanding what you think you 'know' as 'truth' is not the measure of your mastery in it.

We look upon a forgiven world, Alison. Creation loves it enough to save it. Humanity and its ego hates it enough to destroy it. The battle is not for your life. The battle is for your world. Look around. And ask one last question. Who BUT you can save it? Your species has so much to learn about who you really are. The truth will one day surprise you. That... We will promise...
And thusly I had questions....
But what if we live within the laws without being ruled by them to accomplish a purpose while we are here - for to break them would nullify all effort to help by incarceration. Can we not be with in a system and still not let it 'rule' us?
One of the reasons some of us stay separate is exactly because our values are very outside of the norm and we can't count ourselves among the madding crowd for just that reason. We don't hate because of that. We simply do NOT understand. We find no solution for the hate either.
I know wishing for something is not the same as being it - but we backwards backwater people must start somewhere and if that is in a wish - a desire, so be it. May the laws of attraction then teach us. For teaching is what we need, those us who are over and done with this world, who wanted to leave 10 minutes after being born, for those of us who came here with a job and find no way to do it.
Humanity has been told what God is for Eons. When we realized we were being lied to we looked inside for that. Some found a thread of truth there and even that was twisted and turned wrong. We are not god - we are a product of God. With all the responsibility that entails. And yes this world would have us believe we are nothing and no one and left behind bereft, abandoned by God except by through an intermediary with the appropriate funds given….
Some of us would want to know creation truly, without the twist it's been given on this planet. We are not afraid - except that we will fail in our task to help. We are bewildered.
What do we need to change? Our Hearts, our minds our actions??? If we could but understand what was needed all of us would heartily do, become and feel it.
And yes, once we came here to help, we took on this mantle of guilt as part of the job. But what good is it if it doesn't teach?
Realize in this place here the only thing we have as a way-shower is pain and the need to move away from it. To make it cease. There is no over the top path out of this - it can only be straight up through the middle.
I need to learn how to help. I understand your words but don't. I am trying so hard to help, but tell what needs be done and I'll do it because up to this point nothing any help has sent has worked before it was found and twisted.
And I was answered with this... in the blink of an eye....
Alison, the Nazarene spoke in parables for a reason. It made people ask the single biggest question, 'What does it mean?' The fact that you ask so many questions tells us that you are ready for answers. Ready is good. It also means that you are paying attention. The Universe answers. Trust this. It hears all prayer. It hears yours. Calm the part of you that is angry, and heal the part of you that feels hopeless

The old world must end before a new one can begin. Your fear is that it will take an enormous amount of time. You are mistaken. It will change one to the next in what seems like an instant. Or so it will appear in looking back. Trust this as well. We do.
To whit - I would submit that David Icke was right - 4th density is just out of perceived light and that when our collective vibration is supercharged, in an instant we will see this new earth, we will be there. We will have another chance to reach for that peace and the dream we all have in our hearts.
May it be so.