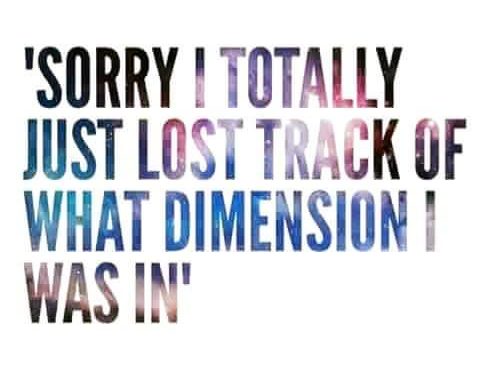 From watching David Wilcock's series "Wisdom Teachings" I have learned about the quantum state underlying the appearance of all matter and its behavior. David is relating this to how the prophesied 'Burp of the Sun' will actually happen from a scientific view point with the math to prove it. This is NOT the current scient-ISM, but actual science.
Each star we see has its own fields of density around it. Mainstream science would have us believe that it is red shift (velocity of travel through space).
Dr. Harold Aspden has correctly discovered that it is a quantum field density that we think we are seeing as red shift by comparing red shift measurement (velocity and distance) and noting that the distances between stars were all wrong. He has some wonderful ideas and has a tutorial on his web site for the very curious, as it will take some work:
Harold Aspden PhD.(Cantab), B.Sc., F.I.E.E., F.I.Mech.E., M.Inst P., F.I.C.P.A., C.,Eng., C.Phys. Sen.Wh.Sc., is considered by many as a brilliant theoretical physicist, electrical engineer and inventor from Southampton, England. His career in patents resulted in his being I.B.M.'s Director of European Patents for many years.
From the tutorials:
By progressing from lesson to lesson you will find you can actually deduce theoretically the precise value of G, the constant of gravitation, expressed in terms of the electron charge/mass ratio. You will find you can determine the numerical value of Planck's constant h in terms of the electron charge e and the speed of light c. Furthermore you will learn also how to calculate the precise value of the proton/electron mass ratio.
Once you can do all that yourself and so find you can explain Nature's physical processes that are at work in determining these three quantities, you will have a skill your physics teachers can only dream about.
If you are at all interested in the foundations on which the whole of science stands you must follow this course of lessons. Then you can begin to make sense of the problems confronting the broader fields of science, particularly concerning cosmology and the universe, particle creation and on from there into the world of the atom, which leads on into chemistry, biochemistry and the evolution of plants and living organisms.
Without this fundamental knowledge, which is based on deciphering what it is that fills the space we see as a 'vacuum', you will not be one of those who is to see a way of taking us forward to a pollution-free environment in which we will feed on clean energy provided by the 'aether'. That is where the energy of everything you can see in the universe came from. Once you understand the 'engine' which powers the proton creation process, then by developing an interest in magnetism and the quantum underworld that projects itself into ferromagnets, you may inspire hope of technological success in that search for New Energy. From <https://www.haroldaspden.com/tutorials/index.htm>
His theory states that we instead, are perceiving the density of the aether(spacetime) in layers around the stars. When a star moves through its current density domain in space to the next, while it passes through the boundary layers of one density field into the next, there is a period of adjustment while the poles of these fields wobble until they are fully into the next field layer. Meaning gravity wobbles too. Gravity is different per the density of the quantum state of the medium the body resides in. There is geological evidence for this in the iron ores found in the different layers of the earth crust because their magnetic field lines are different from the earth's current gravity direction - meaning they don't jive with the current gravity/magnetic field on earth. The samples found indicate this has happened several times in earth's history.
There is evidence to suggest that the domains have a field density per unit area that is different by multiples of 288 grams per cubic centimeter. While passing through areas of space where the boundary between density layers exist, gravity which is a derivative of mass, also changes and could possibly, reverse… everywhere, depending on the density of the aether (space-time continua you are passing through) and how fast we transit.
This is important because the physical effects posited by this completely match up with every known ancient written record existing on earth about this happening. This has happened several times on earth over the centuries and,
By the way, we are still here.
The reason this is confusing is because the real science behind all this has been purposefully obfustigated (confused) by people who do not want us to know it.
Now, why is this important? IMO if we are so totally connected to the 3D experience that says its only real if it is outside of you, then when this happens, we will not be able to understand it because the outside is going to change that radically. This will cause a great number of people to lose their real sense of self - their identity and crash (think go insane) their ability to stay whole. They will shatter. Whereas if you have a more spiritual viewpoint (inner identity) you will ride this change like a surfer on a board on top of a wave with a thrill in your heart.
This would be like putting us all in a blender and disintegrating our identity - which is a unit of soul energy to the point that it is released and then usable by someone else. Or so the ancient plan was.
However, we are growing spiritually enough at this point to have cancelled that plan and IMO, by the time this happens we will all be fine. In point of fact, I actually think this current trend of mass confusion is positive because nothing can be known with certainty at this time and because of this we are all looking for inner answers - discerning the truth from our soul identities instead of willing to be fed the mainstream story written for us. This will prove to be our saving grace, regardless of how confusing it is right now at this moment. I was going to write an article about the confusion and how I felt but, Kauilapele has already said it. . And Kauilapele has also made clear the imperative to know your soul:
"If you are truly an ageless soul, a multidimensional spirit…whose roots go all the way back to the source…a child of Creator once endowed with the same love, joy, bliss and creational powers – how do you remember?. The answer to that is… HOW DID YOU FORGET?
"When you know how you forgot and where the memories reside then you are on the path to awakening. It is often a battle with external forces keeping you from your internal awakening. It is also a battle with the ego, societal programming and unfortunately often family, friends and society in general that wants you to stay within the herd.
"Can you know who you are from the intellect? Can you know who you are through books written by intellects? It is through the development of the ego and the intellect that you got lost – forgot who you truly are, who you were. This is why every great master has said we have to transcend the ego, the intellect, to enter divine mind and know your eternal multidimensional self. From <https://kauilapele.wordpress.com/>
David Wilcock has made the science behind this all clear. I have shared a video on my FB link from Gaia TV which makes this much clearer. IT CAN ONLY STAY UP FOR 48 HOURS AS OF TODAY: 9AM 4/3/2017.
GO AND WATCH.
Then go inside and shake hands with your soul - your inner voice/knowing and stay a spell and get to know yourself. Therein lies your guide and your best friend through all of this.