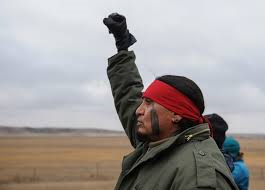 My heart wants to celebrate for Standing Rock. It really does.
However, my gut tells me that this is only a small win in a much larger problem. This is the first indication that people are becoming aware of what is going on under their noses as they are distracted by many other things, the use and decimation of the planet and themselves as a commodity to be sold for profit regardless of what it does to the planet and it's peoples.
In an excellent article written this morning, on the site: Censored News by Brenda Norrell, She said,
"DAPL Permit denied by Army Corps, DAPL says it will proceed anyway. Army Corps denied DAPL permit on Sunday, but DAPL owners said that nothing has changed and it will proceed as planned.
This was published by Energy Transfer Partners (the people who are building the pipeline) this morning:
In spite of consistently stating at every turn that the permit for the crossing of the Missouri River at Lake Oahe granted in July 2016, comported with all legal requirements, including the use of an environmental assessment, rather than an environmental impact statement, the Army Corps now seeks to engage in additional review and analysis of alternative locations for the pipeline.

The White House's directive today to the Corps for further delay is just the latest in a series of overt and transparent political actions by an administration which has abandoned the rule of law in favor of currying favor with a narrow and extreme political constituency.

As stated all along, ETP and SXL are fully committed to ensuring that this vital project is brought to completion and fully expect to complete construction of the pipeline without any additional rerouting in and around Lake Oahe. Nothing this Administration has done today changes that in any way. From: http://www.businesswire.com/news/home/20161204005090/en/
Obviously they intend to get their way whether they do it legally or not.  Below is a list of their partners published in the same article, who I am assuming are in total agreement with the policy of get it done any way you can.
About Energy Transfer Partners

Energy Transfer Partners, L.P. (NYSE: ETP) is a master limited partnership that owns and operates one of the largest and most diversified portfolios of energy assets in the United States. ETP's subsidiaries include Panhandle Eastern Pipe Line Company, LP (the successor of Southern Union Company) and Lone Star NGL LLC, which owns and operates natural gas liquids storage, fractionation and transportation assets. In total, ETP currently owns and operates more than 62,500 miles of natural gas and natural gas liquids pipelines. ETP also owns the general partner, 100% of the incentive distribution rights, and approximately 67.1 million common units in Sunoco Logistics Partners L.P. (NYSE: SXL), which operates a geographically diverse portfolio of crude oil and refined products pipelines, terminalling and crude oil acquisition and marketing assets. ETP's general partner is owned by Energy Transfer Equity, L.P. For more information, visit the Energy Transfer Partners, L.P. web site at www.energytransfer.com. From <http://www.businesswire.com/news/home/20161204005090/en/>
Brenda Norrell then goes on to say,
"The question is now whether President Obama will send in law enforcement or the military to halt DApL from drilling without a permit. Otherwise, today's announcement will have no enforcement, It will be seen as another U.S. and corporate ploy to send home water protectors, and thousands of veterans, now at Standing Rock Camp, where more than 10,000 are camped."
As you can see, the opening salvo has been settled, sort of. I cannot stress enough, the continued need for prayer, vigilance, non-violent protest. The game will be to next, distract us from this issue (which if it blossoms will go worldwide and on to other issues). At this point, this victory - IMO, this step in the right direction is actually meant to distract us from continuing. They would like us all to go home and quit playing 'the game'. Even more so, now that the mainstream media has gotten involved, expect them to slant this story and this news to the underlying agenda of the larger game, quietly and insidiously trying spin our opinion on the situation to their controlled, controlling, proscribed view of things.
Which is exactly what we CANNOT do!
Don't give up!
Don't give in!
and Don't fall back asleep!
Expect very obvious, but nasty tactics to be next on the game plan. The fact that many woke up and added their voice to this issue is a major indicator that we are ready to be awake, and we must persevere. Because we have taken the first step along a long path towards the right direction, in freeing ourselves.
Praying in utter peace, praying in an utterly nonviolent stance.
Yet standing firm in this rising frequency, adamant and unmovable for what is right.
And because of this prayer, we, the world, finally realize that it is our hearts that connect, it is our love for us and the planet that has the power.
This is a boots on the ground demonstration of that principle that will unite a whole world in peace.
A statement of sacred peace that has a strength to out weight the idiotic and clueless controllers.
This will work, because it cannot fail.
This is the future.
This is our future, as we build it.
This is sacred, this is beautiful.