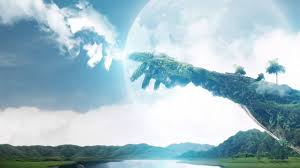 Hamlet:
And therefore as a stranger give it welcome.
There are more things in heaven and earth, Horatio,
Than are dreamt of in your philosophy.
Hamlet Act 1, scene 5, 159–167
---
How many overarching elements would you need to put together to create a story so large and complex that everybody would get caught up in it? Further, to make sure that people could not get their heads above the water, you would have to have several, maybe countless variations of the same story.
The elements would have to be almost archetypal like religions, mystery schools and shamanistic lore, sciences, social structure, cosmologies, psychology (or how the mind of the animal worked - emotionally and logically). These elements would then be manipulated to create 'The All Inclusive Paradigm'.
Within this 'All Inclusive Paradigm' all beings in a certain locality are then manipulated in such a way as to create an experiment to answer and explore supposed theories. This experiment is run and rerun with a different set of parameters until all questions have been satisfied. To make sure previous experimental subsets of results do not bleed through to the next experiment, the animal is put through a process where the energetic coherence of their structure is fractured, such that should the subject begin to become aware of the experiment, except in rare cases, all that is retrievable are echoes, which of course are backwards reflections of events.
So, if all religion, science and cosmologies, social structures, and even physical identities are nothing more than a reflection of some echo from some experience, I suppose we can count on all the different versions of all the stories about any subject you care to look at as supporting a false assumption about reality. In truth, what the modern world defines as reality is also probably, even most definitely, skewed if not completely wrong.
So if reality is not accurate, and the substructures we use to define what reality is are nothing more than created ideas hand fed to us, then who the hell are we? And what the hell is going on? And if we dare to stick our heads back into the endlessly deep rabbit hole trying to sus out more pieces of the puzzles we will remain forever hopelessly, helplessly lost.
I would love to pop my head up above all the mess and just observe the pattern, hoping a larger view would help to explain things, but quite frankly, I can't figure out how to do it!!!! That is because every time I get out there or up there, the larger picture is simply a slightly different 'echo' of all the lower layers, BUT IT IS STILL THE SAME PARADIGM!!!!
All the religious structures, philosophical structures, mystical structures, social structures, above, below, to either side are all copies of the same theory. I mean, look at them. You always have your hierarchy. We can't think without layers. Layers are a hierarchy. We automatically click into this type of thinking paradigm. We were schooled to do this and everything we see in society punches home this idea. I don't even think we could conceive of existence without that concept. We are an entire planet of people who believe in hidden stuff, also. We are always looking for what is inside the box, the critter, the machine, the atom… It sorta contains the unspoken idea that we think there is a hidden game, or con going on at a very basic level. We are also great mimics. Cargo cultists. It reminds me of the Star Trek episode, "A Piece of the Action", where the Iotians had created an entire culture around a book on the Chicago mobs of the 1920's.
Even our history has been occulted (hidden) and created. The victor (and in this case the intelligences that are shaping the story) always writes the history. When the victor writes the history you obviously only hear their side to it put in a favorable light according to their needs. When an outside source designs history, creates a series of events (remember the experiments…) then history isn't even history it becomes His-Story, and we are the witting, or unwitting pawns in a play.
Our science is based on only partially true facts, and has been severely limited - but why? To answer that I would have to buy into the current paradigms of the experiment. I would rather not. The same with our 'religions'
Word Origin: from Latin religio(n-) 'obligation, bond, reverence,'
perhaps based on Latin religare 'to bind.' (IMO it should be to blind)
Need we go into the subject of 'Magic Money"? Or medicine, or education…ad nauseum?
I guess what I am trying to point out is: We think we are soooo smart, that we have dug and we have dug and found hidden mysteries and history and knowledge and lore and cracked through the truth embargo and ALL of it. We think we know. My question to you today is,
"What if every last piece, last bit of life as we know it, or think we know it, is all a planned part of the game?" (including all the tomfoolery, skullduggery and wild goose chasing)
Because I think it is.
Dare I speculate why?