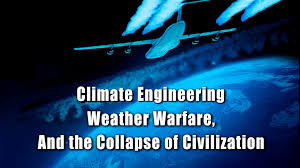 Weather control is just one aspect of the outgrowth of scalar/vortex physics - a science that has been known and in development since before WWI in modern research and which has been encoded on this earth for the last 32,000 years in various texts, writings and monolithic structures. Boom!
To think that the PTB in their continuing civil war, a millennia old, would even think about NOT using this technology, especially now that they have a decent technological base built back is just plain stupid. If the weather volleys we are experiencing are not enough, this tech is also applicable to huge planet busting weapons. Imo, the only reason they have not gone that far is because the effects of one more planet exploding in this solar system would destroy whole thing, and they are being cautious because they are well aware they have still more powerful foes to face from off planet who would frown on that happening.
What we are seeing Imo, is the last throes of a crumbling power structure - infighting for the biggest piece of the pie before the end of their dynasty crumbles to dust. Unfortunately we - the ants who roam the surface of this place are, once again, caught in the machinations of the totally insane.
Do not think you are safe, do not succumb to insulate thought as they would like you to, do not think that a chant or a meditation will turn the tide yet at this point. We need many, many more of the population on board to have that effect.
We are trying to bring a world pop up to speed in the middle of a crisis, trying to educate all while the classroom is flooding and half, no three quarters of the classroom is still asleep. The information, research, patents, industry is all out there in plain sight, but we refuse to know what we are looking at - and we choose to think that something so horrendous would not be allowed to happen - and yet we expect the very people who are creating this mess to be the ones who would never let it happen.
Yes, this is messy, nasty and really hard to wrap your mind around. But we really need to get on board and begin helping our neighbor to awaken, because if not us, then who? Certainly not the current scientism that passes for science, and certainly not the educational system that is geared towards making idiots. Once again we are being exterminated with all due effort. And we refuse to see that the very people we count on to protect us, the highest authorities of the land, are exactly the ones who are exterminating us and ruining our world.
The damned idiots who blew up one planet and decimated another are still at it - right here on this world - and we cannot turn our backs and walk away, because this is the only planet we have. In a very real sense - other dimensions aside, other realities aside, other energy states aside - This Is It folks. You are living on it.
By now, we all know what we don't want anymore. We all know then, by analogy what we could have. It is high time to stand on our own two ant-feet and begin to make a noise, start a clamor, wake things up, state what we will no longer tolerate and somehow, make it stick.
P.s. I know this is stating the obvious, but it is true - or there would be no need to write pieces like this...