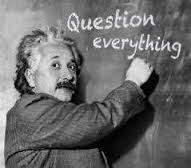 The Rashomon effect is where the same event is given contradictory interpretations by different individuals involved. The effect is named after Akira Kurosawa's 1950 film Rashomon, in which a murder is described in four mutually contradictory ways by its four witnesses. More broadly, the term addresses the motivations, mechanism, and occurrences of the reporting on the circumstance, and so addresses contested interpretations of events, the existence of disagreements regarding the evidence of events, and the subjects of subjectivity versus objectivity in human perception, memory, and reporting.
The Rashomon effect has been defined in a modern academic context (from Robert Anderson, in 2016), as "the naming of an epistemological framework—or ways of thinking, knowing, and remembering—required for understanding complex and ambiguous situations."[2] The term for the effect is derived from the eponymous film, Kurosawa's Rashomon, in which a number of factors are at play, simultaneously, leading the same academic to comment:
[T]he Rashomon effect is not only about differences in perspective. It occurs particularly where such differences arise in combination with the absence of evidence to elevate or disqualify any version of the truth, plus the social pressure for closure on the question
I have just finished listening to this interview by Kerry Cassidy.
It is by far the most informative and historically enlightening expose of the current false flag going on in the SSP/ET genre. Kerry makes one very salient point:
There is a concerted effort by big money to capture, corral and spin the alternative media that is currently our source for any and all information relating to the SSP and the related topics. Big. Money. There are several people/organizations, not just one, out there trying to capture and control true, honest information and researchers by offering money, stability and exposure to them for capitulation to the theme of the supporter instead of the honest truth. We all know what big money means since 90% of all the wealth in the world is distributed to 1% of the population. IE: Those who control the agenda here on this planet.
The fact that there are people like Kerry who are unwilling to have any control over what they report and produce is our saving grace. It is a well-known fact that this genre has been marginalized in a number of ways, the first of which is through money (you will starve if you try to make a living in this genre), the second of which is through the giggle factor. IE: I've seen it in a movie, or read it in a SF book, etc. No one can live well or securely doing anything in this market unless you can include other venues in your business, or you have a second job. These people are a determined lot with a fire and passion to get the information out to the greater public.
When an group, institution or person looks like it is at the brink of becoming emergent into the greater population, it is immediately targeted for inclusion and control by several big money organizations and is then roped in and controlled. We all know this, we, of late, have watched it happen to the best of us. Not that this is bad, except that it places a certain spin on your information through a larger network and certain key types of information are then excluded.
IMO yes, our genre/topic maybe reaching the greater masses, it is a good thing and it needs support to do it. However, any type of spin in my opinion, is still information control and not the whole picture. I am NOT calling out motive, or labeling here, I am simply stating that for as long as we sit back and contentedly feed off of only one source, that source has willingly been given the control of our brains and becomes a type of mind control.
We are such lazy asses and we love our slick productions and pretty pictures especially when we don't have to work too hard to get it. On top of that we are being back fed through brainwave technology in our subconscious minds all the time, then it is minimalized it and brings our poor simple brains to a halt as far as what and who to believe. Once again: GODS FORBID WE DO OUR OWN RESEARCH AND OUR OWN THINKING!
Yes, it may be hard to parse through tons and years of stories and proof when we can sit back and let others dazzle us with slick technicolor productions while we are not asked to do any thinking at all, but if we want to find the real information out, we have to kick our sorry, lazy asses in gear and do some of the heavy lifting ourselves.
Please realize one of the components of conspiracy we never, ever, talk about is the capture of the alternative media and the reigning in of its truer, wilder, aspects, eliminating the EXACT information we need and should be looking for. We have for the last 70 years been trying to produce a legitimacy factor to this sector of information - to fight the giggle factor and for all intents and purposes it looks like we may have hit pay dirt.
But!!!! (there is always that pesky but…) we are in great danger of capitulating to the masters of spin who have invaded and infiltrated us (like so many other things - their name is legion) so smoothly and prettily that we almost slipped over that edge into complacency. If we are not careful our beloved alternative media will be as useless and manipulative as mainstream/lamestream media. Think about it. Listen to the above interview. I found it highly stimulating and informative.
Wake up! Get out of the pretty box. Think for yourselves!!!