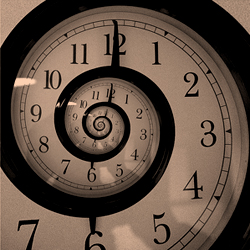 I have been struck by the similarities of old and new information lately and the cyclic re-emergence of all of it.
I have run across the book: Alien Interview By Matilda O'Donnell Macelroy.  The material in this book sounds like The Law of 1, the Bailey books, plus the Emerald Tablets of Thoth. It also sounds like the Blue Avians message. It also reminds me of the messages of the old-guys - Adamski, Menger, and VanTassell, (1) and what they wrote about the space bother's message. I find that really, in whatever form it has come to earth, the message that was delivered to the populace of the world has been, for 70 years, about Love. Loving the earth loving each other, loving the animals...  This is also true when I connect telepathically with those that are trying to help the earth, the ET/ED/IE's. But here's the thing -
I find the groups popping up to promote meditation, world peace, disclosure, difficult - I always have - due to the regimented ideas that tend to form around them. Sooner or later it will or can be used to create division. This trend may be used against all of us in the future to once again derail any obvious push toward unity and disclosure. And working with this idea as it applies across the board:
Truth is a subjective observation of the apprehended idea, recorded from the point of view of a perceiver.
This means that reality and truth are a mobile facile thing, constantly changing for all of us. Only in 3D is there something that could be construed as absolute. Since everything we want is outside of the realm of 3D the term absolute becomes totally meaningless as applied to all our perceptions. We know that even in a shared ET contact event, where we are all looking at the same thing, the message/understanding will have many differences as people.
So I guess I have been asking the question of late how do we bring unity to a populace where free will must operate in and every perception has a variation on the truth that is equally as valid as the next one???
sighs.
Because it seems it's going to roll out to be this - not the question of if there are other beings out there and in here, but about the communal perception without breaching the code of freewill, and without creating more head butting and gnashing of teeth.... Sheesh!
In Alien Interview Airl (the alien) talks about history - what we would like to look at as a string of events in chronological order that are TRUTH:
"Before you can understand the subject of history, you must first understand the subject of time. Time is simply an arbitrary measurement of the motion of objects through space. Space is not linear. Space is determined by the point of view of an IS-BE when viewing a object. The distance between an IS-BE and the object being viewed is called "space". Objects, or energy masses, in space do not necessarily move in a linear fashion. In this universe, objects tend to move randomly or in a curving or cyclical pattern, or as determined by agreed upon rules.
History is not only a linear record of events, as many authors of Earth history books imply, because it is not a string that can be stretched out and marked like a measuring tool. History is a subjective observation of the movement of objects through space, recorded from the point of view of a survivor, rather than of those who succumbed. Events occur interactively and concurrently, just as the biological body has a heart that pumps blood, while the lungs provide oxygen to the cells, which reproduce, using energy from the sun and chemicals from plants, at the same time as the liver strains toxic wastes from the blood, and eliminates them through the bladder and the bowels. All of these interactions are concurrent and simultaneous. Although time runs consecutively, events do not happen in an independent, linear stream. In order to view and understand the history or reality of the past, one must view all events as part of an interactive whole. Time can also be sensed as a vibration which is uniform throughout the entire physical universe. Airl's definition of an IS-BE:
"Personally, it is my conviction that all sentient beings are immortal spiritual beings. This includes human beings. For the sake of accuracy and simplicity I will use a made-up word: "IS-BE". Because the primary nature of an immortal being is that they live in a timeless state of "is", and the only reason for their existence is that they decide to "be".
These two excerpts match the mystery school teachings of what a spiritually advanced 'spirit' would be and could do. They are talked about in the Bailey books of theosophy, the Emerald Tablets of Thoth, the Law of 1, and just about any other tradition that has come up through the centuries.
There are several correspondences with the grey alien archetype in Airl's description of the type of body she 'uses', how it works and how it is hooked into the craft that she flew. The grey bodies we all see in many different contexts are constructs that allow an intelligence to either operate in 3D, or interface in 3D. They are as common as cell phones, and each race has their own tweaks in them according to their own necessities. Our fledgling understanding of this began with the Montauk chair developed in the 60's that was used to allow us to interface with ET tech that was recovered at Roswell and has grown exponentially since then.
In her brief summary of history in our solar system she introduces us to the 'Old Empire' and the newer 'Domain' of which she said she was a part of. ( remind anybody of Star Wars?) This dovetails nicely with David Wilcock and Corey Goode's information and what the Law of 1 teaches of our history. The only thing that doesn't are the time lines. LO1 talks in thousands and millions of years, Airl talks in trillions and billions of years.
What is interesting to me is how information - truths and data are brought out, judged, talked about vetted or not, debunked and then slide back under the conscious awareness of the consensus for 60-70 years and then pop back up with even more correspondences, more parallels and yet a deeper understanding. If the last 70 years has taught us anything, it is that, as information lives through its cycles in time (time being what it is - a point of view) as it comes back around to prominence it will be with a deeper understanding of it, a wider acceptability and exponentially more correlation points. The one thing we all must do is determine the voracity (truth as we see it) of such story and data in discernment from our own perspectives and our own research. It is important to note how we receive this information and therefore what our actions become, we need to act from a place of sovereignty and not a place of reaction.
It is my feeling that we are approaching a second cycle - a re-emergence of some battered old truths that are up for re-examination - again - and it is time we looked in a different light, with a more opened, enlightened mind. Are we being taught just as we teach our children, where each yearly cycle of learning builds on the next and depends on the assimilation of the previous year to make sense?
Maybe if we could realize that our differences and our great similarities mean nothing to UNITY - that unity is all inclusive, not divisional or separatist, it might be a nice first step.
To listen to the entire book go  HERE
foot note
(1)
George Adamski (April 17, 1891—April 23, 1965) was a Polish American citizen who became widely known in ufology circles, and to some degree in popular culture, after he claimed to have photographed spaceships from other planets, met with friendly Nordic alien Space Brothers, and to have taken flights with them to the Moon and other planets. He was the first, and most famous, of the so-called contactees of the 1950s. Adamski called himself a "philosopher, teacher, student and saucer researcher," although most investigators concluded his claims were an elaborate hoax, and that Adamski himself was a con artist.[2]
Adamski authored three books describing his meetings with Nordic aliens and his travels with them aboard their spaceships: Flying Saucers Have Landed (co-written with Desmond Leslie) in 1953, Inside the Space Ships in 1955, and Flying Saucers Farewell in 1961. The first two books were both bestsellers; by 1960 they had sold a combined 200,000 copies.[3]
From <https://en.wikipedia.org/wiki/George_Adamski>
Howard Menger (February 17, 1922 – February 25, 2009) was an American contactee who claimed to have met extraterrestrials throughout the course of his life, meetings which were the subject of books he wrote, such as From Outer Space To You and The High Bridge Incident. Menger, who rose to prominence as a charismatic contactee detailing his chats with friendly Adamski-style Venusian "space brothers" in the late 1950s, was accepted by some UFO believers. Menger later mentioned in a documentary that the space people he been contacted by had bases on Venus and other planets in the Solar System but he believed they lived somewhere else in the universe.[1]
From <https://en.wikipedia.org/wiki/Howard_Menger>
George Van Tassel started hosting group meditation in 1953 in a room underneath Giant Rock excavated by Frank Critzer, a prospector. That year, according to Van Tassel the occupant of a space ship from the planet Venus woke him up, invited him on board his space ship, and both verbally and telepathically gave him a technique for rejuvenating the human body. In 1954, Van Tassel and others began building what they called the "Integratron" to perform the rejuvenation. According to Van Tassel, the Integratron was to be a structure for scientific research into time, anti-gravity and at extending human life, built partially upon the research of Nikola Tesla and Georges Lakhovsky
From <https://en.wikipedia.org/wiki/George_Van_Tassel
http://mysteriousuniverse.org/2016/03/van-tassel-flying-saucers-and-the-government/
https://www.youtube.com/watch?v=7myEjjbuPYU plus 4 other parts to this.